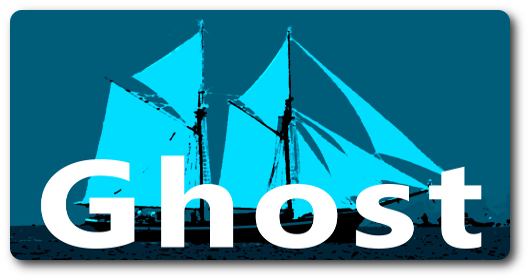 by Philipp Claßen
---
About
Ghost

:
Ghost

is an amateur chess program written in C++

Ghost

was also used as a subject for an important school work (german: "Facharbeit")
The name

Ghost

was taken from the name of Wolf Larsen's ship in the novel "The Seawolf" by Jack London.
---
News:
2011-03-27:

Ghost 2.0.1

currently ranks at place #121 on the CCRL 40/4 rating list:

121 Ghost 2.0.1 32-bit 2483 +17 −17 53.5% −26.6 23.3% 1206
That's an improvement of over 250 elo compared to

Ghost 1

!

2011-03-25:

Ghost 2.0.1

currently ranks at place #145 on the CCRL 40/40 rating list:

145-146 Ghost 2.0.1 2405 +32 -32 48.7% +11.1 26.8% 340
It's also currenty playing test games under 40/4 time limits, with even more promising results so far.

2010-07-14:

Ghost 2.0.1

released (see download-section). An upgrade is highly recommended to benefit from the improved playing strength.
2010-06-29:

Ghost 2.0.1beta

is available in a Windows version.


It includes a new settings file that uses a much more selective search and seems to improve playing strength in first tests by roughly 50-100 elo!
This setting (alternative2.cfg) uses features that won't work with the current linux-version, so it's not recommended to use them under Linux yet.
However, with the upcoming 2.0.1 version, there will be some additional bug fixes and the new settings will be fully supported in all available versions!

2010-05-11: Unfortunately, the bitbases, which were included in the Windows version

Ghost 2

, were corrupted (the Linux versions are not affected). Please, replace them by the corrected files from the latest version (see Ghost 2 for Windows).

The MD5 checksums of the correct files are:

kp_kp.gbb: 5d7859b093b0ad87042b71ceb807ec6a
kpp_kp_ram.gbb: c2e28ab0e727021d778e09ecc09b2b90

2010-05-09: Fixed the missing version numbers of the engines:

Ghost 1

has been promoted from 0.14 to 1.0

Ghost 2

starts with 2.0


There is also an updated build of

Ghost 2

for Win32 (using GCC 4.5 under Cygwin).
2010-05-02: No, this site is not dead! As the work on

Ghost 3

has been started, it is time for new releases (see download-section):

The stable Linux version of

Ghost 2

(64-bit).
An slightly outdated Windows binary of

Ghost 2

(32-bit). (Unfortunately, the latest code depends on C++0x extensions that are not yet available on Windows.)
A new 64-bit Linux version of

Ghost 1

. All fans of this ancient engine should update! (On my two test machines, the 64-bit engine is twice as fast as the 32-bit version).


What has been changed from version 1 to 2? In short,

Ghost 2

has been completely rewritten, which greatly improved its playing strength:

Better evaluation:


Ghost 2

is capable of playing solid, positional chess, and is less reckless than

Ghost 1

.
Improved endgame knowlege:
The former weakness has become quite a strength, as

Ghost 2

should not be underestimated in technical endgames.
Enhanced search algorithm:
Although

Ghost 2

is a positional chess engine, it is also a better tactician than

Ghost 1

.
Additional features:

Supports Nalimov tablebases
Allows to alter its playing style (try --personality Tal)


In contrast to the major differences between version 1 and 2,

Ghost 3

will not be started from scratch. However, the search algorithm definitely needs to be reworked.

Ghost 2

uses a MTD(f) algorithm, but it is still open whether

Ghost 3

will return to the traditional Negascout. In any case, it will add support for multicore machines.
2004-09-22: Finally, some minor updates on the engine. You can download the new version 0.14 of

Ghost 1

in the download-section. There is also a new linux binary for version 0.14. Most changes are related to some bugs in the search function which should be fixed now.


Ghost 1

will not be developed any further except for bugfixes. All efforts will be concentrated on the completely new

Ghost 2

-version.
2004-09-21: Still stressed out by study (both Phil and me). But somehow Phil still found some time to have a look at some old

Ghost 1

-code and found some minor things to keep up-to-date to modern compilers. Also, he is currently debugging some issues in

Ghost 2

which seem to have harmed move ordering quite a bit. Still one of the top items on the todo-list is probably completing the evaluation function (especially endgame knowledge). Anyway, there will be a brand new pre-version of

Ghost 2

within the next days. Just don't expect very much improvement, remember, this is only an one-man amateur project... ;-)
2004-08-20: Heavy study work for Phil, so new

Ghost

versions will be delayed for a while. For the time being, you could encourage him by donating some "research funds"... :-)
2003-01-28: Finally, there is a running version of

Ghost 2

. Althoug, I am afraid, it still is not very much other than a alpha-version and so it is not yet concerned good enough for official release. But IMHO, first impression is very promising...
2002-05-13: Still no

Ghost 2

, but at least there is a working

Ghost 1

version for Linux!
2002-02-27: Finally, I am happy to announce some progress on

Ghost 2

. Soon there will be a preview version. But right now, the search and evaluation functions have not been implemented completely.
2001-05-19: sorry there will be no multithreading in the new version of

Ghost

. Not yet! Phil wants to keep the code as compatible for later use of multiple threads as possible. Currently he is very busy writing his final exam (ger.: Abitur).
2001-04-11: as some of you might have noticed, there seems to be a problem with

Ghost

running in Chessbase/Fritz environment. This has something to do with the differences in the xboard- and the fritz-protocol.
But anyway, Phil is currently working on a complete new version of

Ghost

, this time adding multithreading and an improved search function. It should also be designed very strict and clean object oriented (even more...) :-).
So, hang on for further news...
2001-02-26: version 0.13 released and ready for download, removing following bugs:

problems after editing a game position
some problems about taking back moves in general
a very nasty bug causing

Ghost

to crash after 50 move repetition!

2001-02-19: news section added, containing news about this site and naturally about

Ghost

2001-02-19: new version 0.12 of

Ghost

ready for download, containing all later improvements
2001-02-18: new commandline parameters:

"hash xxx" (size of transposition table)
"pawnhash xxx" (size of pawn hashtable)
(xxx = size in MByte, 0 for minimum size, e.g. "ghost hash 16 pawnhash 8")
---
About the author of
Ghost:
Philipp Claßen
He made his final exam at the "Gymnasium Landau a.d. Isar", Germany.
Performed his social service (ger.: Zivildienst) in Straubing, Germany.
Subsequently, he studied computer science at the University of Passau, Germany.
After graduating, he went to Munich and joined a company called Nickwoods, where he developed systems for algorithmic trading (high-frequency trading).
In 2010, he moved to Hamburg to join the software company freiheit.com.
In March 2011, he again relocated to Munich, to work for Mercateo.com, a highly innovative B2B trading platform.
---
Search algorithms:
Ghost 2:
MTD(f) search
Late move reduction (LMR) with verification search
(Many thanks to the authors of Fruit and Glaurung!)
Killer + history tables
Internal iterative deepening
Selective techniques like:

Recursive nullmove ("2-3 plys reduction")
Razoring + futility prunning
History pruning

Enhanced Transposition Table Cutoff
Unique techniques (Ghost's secrets):

Perpetual check detection (much safer than in

Ghost 1

)
Pin detection extension
Local history counter (in contrast to global history counters)
Ghost 1:
Negascout search
Internal iterative deepening
Killer + history tables
Selective techniques like:

Recursive nullmove ("3 plys reduction")
Razoring + futility prunning

Prescan tables (never really worked well...)
Unique techniques (Ghost's secrets):

(Crazy) perpetual check detection (an unique, but too dangerous idea!)
---
Download:
---
Donate:
Although this is only an amateur project without the intent of making a big pile of money, you could support us by donating some "research funds" using PayPal:
---
Links:
---
Contact:
---
authors: Michael Claßen, Philipp Claßen impressum Last modified: Sun Mar 27 16:23:55 CET 2011 created under Linux using XEmacs
| | | | |
| --- | --- | --- | --- |
| | | | |